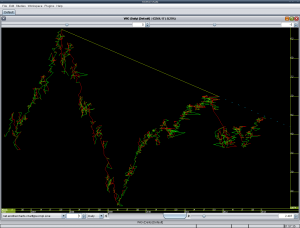 Another Charts is probably the most configurable and expandable software for technical analysis on the world.
Expandability manifests itself by availability of the widest range of API. Configurability manifests itself by a standardized plug-ins' configuration module, which on the one hand significantly helps developers to work on them, on the other, offers users an easy and logical way to change each plug-in's settings.
Another Charts is the only software which render stock quotations in three dimensions (time x price x volume) and the only in which it is possible to place graphical tools in form of conic sections (circle, ellipse, hyperbola, parabola) and trigonometric curves (sinusoid, tangentoid)  (see all built-in graphical tools) on chart.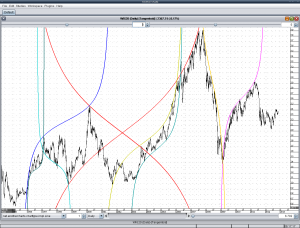 With the Another Charts API it is possible to connect your own data source (see built-in data sources), create your own graphical tool, chart type (see built-in chart types), type of axis to render (see built-in axises) or your own geometry for any of three axises (time, price, volume) (see built-in axises' geometries).
Unlike other programs of  such type, Another Charts focuses on the classical technical analysis and does not offer ability to add indicators to a chart or  to create automated trading systems at the moment. Another Charts, thanks to it's build and unusual features and tools is the best choice for the proponents of the classical technical analysis.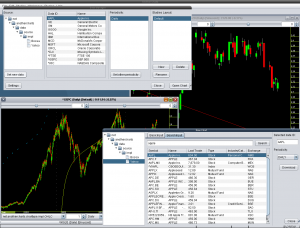 Another Charts is also a type of philosophy (see Education section on the blog). Another Charts doesn't preserve stereotypical theories like Fibonacci retracements such as other programs for technical analysis do; therefore, graphical tool for placing value retracements on charts is named just "Value retracements" and in its default setting are quarter retracements (see Quarter retracements vs. Fibonacci retracements).
Another Charts is not just another software written by a qualified developers team without any idea on technical analysis, but it is software developed by a man who has spent many years on analysing stock charts and who has specifically learned programming in order to create a tool non-limiting one's imagination.
Build
Another Charts has been written in Java language, so you can run it on any operating system, on which it is possible to install Java Runtime Environment version 7 (Windows XP or newer, Linux, Mac OS X 10.7.3 or newer, Solaris).
Executable file has approximately 5 MB.
Another Charts is currently released as beta version (1.0-beta-1). It means that the program still has some minor bugs but is usable. Until the stable version is released,  API will be significantly changed (see Roadmap), but  for end users those changes will be invisible.
Offer
Beta version is offered with a 50% discount (for 110 USD instead of 220 USD), in form of lifetime license for a single user, with free updates under 1.x version. Order now.